About Us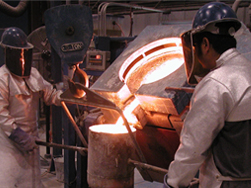 Lone Star Casting & Machine was created with the initial goal of being a supplier of centrifugally cast and semi-finished aluminum-bronze bushing blanks to the aerospace industry. We are now in our 10th year of production and control all phases of the process in-house. That is to say; starting from raw materials, we alloy our own ingot, centrifugally cast, heat treat, mechanically test, and machine our product all under one roof. We supply semi-finished flanged bushing and cylinder shapes to many of the "bushing shops" in the aerospace industry, as well as raw material in cylindrical shape to "metal re-sale" companies. In the case of the flanged blanks, CNC lathes are employed to ensure accuracy and part-to-part consistency in our production lots, thus minimizing set-up time in our Customer's facility. Our current maximum diameter is 12.50" OD, and our alloy offering covers the aluminum-bronze / aluminum-nickel-bronze family of alloys.
AS9100 Accreditation
Early on, we made a commitment to become AS9100 certified by an accrediting authority. With AS9100 being the first standard for use across the global aerospace community, as well as addressing the requirements necessary for civil and military aviation, we understood this would play an important role in our ability to become a premier supplier of bushing blanks in these industry sectors. In just over one year from the time we poured our first casting, we achieved our goal of becoming AS9100 accredited. Click here to view our certificate.
Commitment
With a workforce comprised of tradesmen, who take pride in our craftsmanship, coupled with an effective business management system, we strive to produce top notch product, delievered on time, and priced competitively.

Request A Quote
Allow us to quote on your aluminum-bronze bushing material needs.
Contact Us Today!