Services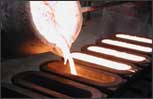 Custom Alloying
With our in-house alloying / ingot making capability, Lone Star is your source for standard, as well as custom, chemical compositions.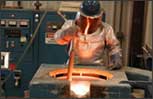 Induction Melting
Utilizing coreless induction technology, fast, clean, and efficient melting is assured.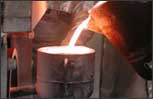 Centrifugal Casting
Clean molten metal at the proper temperature, introduced into a rotating mold with speeds creating a centrifugal force many times that of gravity produces a more dense casting with a more refined grain structure than that of any other casting methods. The directional solidification and finer grain structure of a centrifugal casting provides for mechanical properties superior to that of a static casting of same alloy.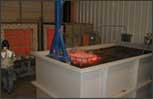 Thermal Processing
To enhance mechanical properties and assure uniformity across the lot, the majority of alloys we produce for the aerospace industry require heat treatment of some type. Primarily, quench hardening, followed by a temper anneal is specified. Rather than outsource this service, we perform all our thermal processing needs in-house.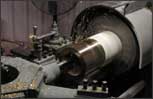 Machining
All parts leaving our facility are machined. For simple cylinder shapes supplied with stock to finish to your dimensions, conventional turret lathes are employed. For "shapes," namely flanged-bushings, turret lathes are used to "rough" machine part blanks, followed by a CNC machining operation to produce a semi-finished product with stock remaining on all surfaces. Our CNC machined part blanks will have a high degree of accuracy along with a part-to-part dimensional consistency and roundness that helps to reduce set-up time for final machining in your facility.

Request A Quote
Allow us to quote on your aluminum-bronze bushing material needs.
Contact Us Today!